Of course I forgot to take a picture of the "before" dress, but it was a crossover front, empire wasted dress from Mossimo (Target). It was 3/4 sleeves too. I loved it, but it is so blah and plain to me now. But It was sooooooo comfortable - nice and stretchy. So why not make it into a NEW dress?? :)
I also had a white Old Navy shirt that was just too big - I didn't like it much, because it makes me look so much bigger. Yuck! But it was comfy to lounge around in. I figured if I used it in conjunction with the dress, it would be just the right size.
A few snips here and a few stitches there, and the top and bottom were together. A few more stitches, and I took some length off the dress (in the pictures it looks bad, but I ironed it to make it smooth afterwards). Finally, a few rosettes made from leftover material and some fabric leaves made a great final touch. I love it and cannot wait to wear it tomorrow!
Have a great week! And check out these blogs: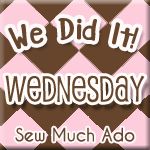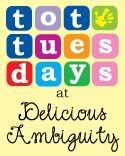 Allie